SAM Preccelerator Presents: "Breaking Payments – How to Navigate the New Payments Landscape 2014 and Beyond
Join Stubbs Alderton & Markiles, LLP
for this exclusive event!
October 24, 2013
5:30pm-8:00pm
**Networking to Start!**

"Breaking Payments" – How to Navigate the New Payments Landscape 2014 and beyond. A breakdown of the industry: segments, providers, best practices and latest technologies in web, mobile and retail payments. Myths, facts and secrets large banks don't want you to know about credit card processing and how to make payments simple, secure, and scalable for your business. What's next on the horizon: Risks, rules and federal regulations.
Featuring
Todd Eichner

 Todd is an entrepreneur and visionary leader with extensive experience developing, launching, and managing businesses. Todd is currently CEO of National Discount Merchant Services (NDMS), a simple, reliable and robust payments platform for businesses to accept credit cards and ACH across any web, mobile or retail store.  Todd has been a founding member of several startup ventures, inspiring him to help other entrepreneurs, which he is luckily able to do on a daily basis through NDMS' small business startup program. Todd is a fanatic at providing outstanding customer service and believes one customer will result in multiple opportunities, if treated as you would want to be treated (do unto others as you would have them do unto you).  As a micro investor Todd makes angel investments and recently introduced a payments startup award of $2500 to help launch and accelerate new businesses (to every approved merchant, anyone can apply).  Upon founding NDMS, Todd's extensive experience in the payments industry helped create a unique method for saving merchants money, while providing industry leading technology to merchants across any market sector, from the corner market to the largest e-tailer.  NDMS has over 85 sales agents across the country plus international satellite offices and over 150 integration partners including POS systems, eCommerce Platforms, Softwares, Mobile Apps, and Web Developers.  NDMS' ePay Plus is a simple, full featured and cost effective secure payment gateway and API for partners and merchants to integrate into their applications.  Todd is a Los Angeles native, married, has three kids and enjoys Laker games, coaching soccer, hanging at the beach with the family and a good cup of coffee.
Sponsored by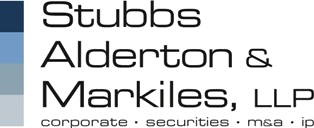 Stubbs Alderton & Markiles, LLP
1453 3rd Street Promenade, Suite 310
Santa Monica, CA 90401
Parking
4th Street/Broadway ramp or in the Santa Monica Place Mall
We hope to see you there!
Heidi